September 2023 is full of beak n' roll machine music! Three shows and a new release! Zitter play at Lygten Station, Play With Me, Copenhagen on September 16th, at BT Bar, Stockholm on September 22nd and Gården Sesions, Folkparken, Stockholm on September 29th. To get in the right dancing mood, go dance with the live clips on the YouTube playlist Zitter Live. Kaputski guitars, a false note, magic dance steps, cheering audiences and the ordinary doze of chaos.
The next Zitter release is entitled Angry Bird. It consists of re-recordings of three old songs, from releases not out on any digital service. Then there are six tracks which might not be in the traditional Zitter vibe. The album title captures the lyric themes of the majority of songs. Angry Bird was mastered by Jon Rinneby, Sound of wool. The disc available on September 27th on all major digital platforms. (September, 24)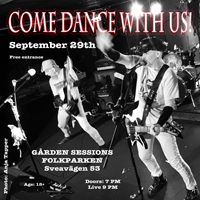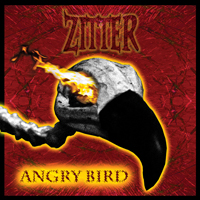 Zitter as Vikings! As background singers on Swedish metalband Dristeig's take on Miracle of Sounds' Valhalla Calling, Zitter also shot some material for the video. Dressed up as Vikings, not Vultures! Check it out here.
To get electrified by frantic Zitter live performances, check out the playlist Zitter Live on YouTube. Several videos are shot by Batcave Rock. And, be sure not to miss a show by keeping an eye on the gig page and by following the band on Facebook. (June, 27)